Maternal Health Equity Workshop: From Story to Data to Action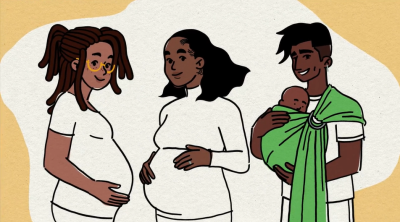 Foundations of Responsible NLP Use for Maternal Health Equity
This comprehensive guide to including the voices of women and birthing people in natural language processing research and clinical decision support tools was distilled from input from workshop participants, leading NLP researchers, and a survey of people who gave birth in the last five years. Watch the video and learn the foundations.
Learn More
During the 2022 Maternal Health Incubator, we heard why patient and community voices are crucial to improving maternal health equity and outcomes. One tool that lends itself to capturing these voices — and on the verge of widespread use for research and clinical decision support — is natural language processing (NLP).
The Maternal Health Equity Workshop: From Story to Data to Action explored how and whether available qualitative tools like NLP, which use machine learning to process and interpret qualitative data, can retain the wisdom of patient and community member stories as those stories are transformed into data.
The 2023 Maternal Health Equity Workshop showcased how and why to leverage patient narratives (i.e., qualitative data) for maternal health-related clinical decision support, public health, and population health research. We discussed the anti-racist, anti-discriminatory, and pro-equity considerations that must be applied when using artificial intelligence and NLP at large, and how to avoid pitfalls.
After an overview of NLP, its use cases and considerations, attendees participated in a "Principles of Maternal Health and NLP" exercise to share their knowledge, personal and professional perspectives, lived experiences, and concerns around maternal health inequities. The information attendees generate will be collected and analyzed by the AAMC Center for Health Justice during summer 2023 to produce guiding principles for the use of NLP in the maternal health space.
The third session featured a reactor panel composed of representatives from the federal government, public health agencies of Canada and the United States, the health care sector, and maternal health experts to discuss how their respective agencies can develop and spread the use of NLP in public health and clinical decision support to improve maternal health.
More resources from the Maternal Health Equity Workshop will be announced soon. Sign up for the Center for Health Justice newsletter and follow us on X, formerly known as Twitter @AAMCjustice to stay up to date on this and other health equity events.