Building the evidence base for health equity includes evaluating data to guide the decisions that help communities thrive. 
The COVID-19 pandemic has revealed the gaps and inadequacies of our current data infrastructure. Often, health information on race and ethnicity is missing or unreliable. There is no standardized way to collect individual (e.g., "I am experiencing homelessness") or community social risk data (e.g., "My community lacks affordable housing"), let alone share those data across sectors to coordinate, align, and evaluate efforts.
Improving community health requires accurate and relevant data to identify population health inequities, develop locally relevant interventions, and track progress toward health equity. The AAMC Center for Health Justice is committed to ensuring that the United States has the data it needs to achieve health equity.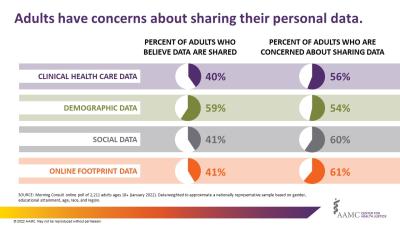 For the Common Good: Data, Trust, and Community Health
New polling explores the connections between the public's trust in institutions and willingness to share personal health data. This research brief highlights actionable insights on trust and comfort levels around sharing personal information as well as the perceived impact of that sharing.
Read the Brief
Developing Tools
The Health Equity Inventory
The Health Equity Inventory tool was originally developed as part of an effort funded by the U.S. Department of Health and Human Services' Agency for Healthcare Research and Quality and Centers for Disease Control and Prevention. It is designed to help teaching hospitals coordinate and evaluate their community health work across research, clinical, education, and community engagement efforts.
In 2022, the Center for Health Justice launched a two-year pilot with Vanderbilt University Medical Center to develop an improved, cloud-based version of the tool at four sites with their community partners. Learn more about the pilot sites.
While the cloud-based version is under construction, you can download the spreadsheet-based version of the tool to document an institution's community and health-equity focused initiatives. Download the instructions to learn how to enter and analyze data, construct queries, and create reports.
Making the Case
Data for Health Equity: The Foundation for Creating Healthier Communities
This virtual briefing for Congress highlighted on July 21, 2021, how all sectors in the health ecosystem — including public health, medicine, housing, and transportation — have similar data needs for demographics, individual-level social needs, and community-level social determinants of health.
It also illustrated the Center for Health Justice's other advocacy, service, and research efforts to advance data for health equity.